Happy Hump Day Folks. If you're midway through this work week and thinking "oh boy, I could really use some good new music to listen to… and I would also like to know some idiot's opinion on Peppa Pig, Lana Del Rey, XXXtentacion, and Big Little Lies" then boy have I got the poorly written blog for you! Read on and I guarantee you'll like what you see! Or your money (that you haven't given me) back!
What's Good?
"Overthinking IT" -WILLOW
Just after her boyfriend brother Jaden's album "Erys" dropped, Willow Smith has dropped her album "WILLOW" (sick title) and it's not half bad! It's got a really unique alt-rock/R&B sound that I'm kinda feeling. She has a track with Jaden because…of course she does, and it's pretty good, just like the rest of the album. This is the song that really stuck out to me though. "Overthinking IT" has an almost reggae-sounding guitar set-up with big drums and Willow's voice is so smooth yet grungey all at once and it works so well over the instrumental. Her going off at the end really just belting out the lyrics with a really cool My Beautiful Dark Twisted Fantasy-esque voice distortion is SO GOOD. Been crushing this all week if you like this song highly suggest checking out the rest of the album.
"RNP" -YBN Cordae (feat. Anderson .Paak, Prod. by J. Cole)
YBN Cordae is on the come up right now and his stock just keeps rising. He released "Bad Idea" with Chance earlier this year and now dropped this song with a J. Cole beat and a Paak feature??? HEAT. He's got a ton of great features, all the songs have been solid so far, and he's got like 12 more coming when his album "Lost Boy" drops Friday. I'm pretty hyped up for this one and it adds to the several albums rap fans will have to dive into this weekend.
Brandon Banks -Maxo Kream (Album)
I honestly didn't know much about Maxo Kream before this new album other than that he was featured on Revenge of the Dreamers 3. That's the problem with rap these days is that there are so many artists it's hard to listen to everything and everyone. So when someone says "let's listen to this new guy called 'Maxo Kream'" I'm usually like,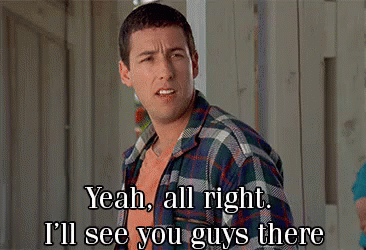 But I took the time this week to check out his new album and it BANGS. The beats are all flames, my favorite of which is from "Meet Again" a single he released a while ago that is so hard.
There's a stretch of like 8 bars where he's just listing off all the people he knows that are in jail and it's absurd. This man legit doesn't have family outside of prison. It's wild. The beats are heavy and the lyrics are real gangster stuff which is kind of refreshingly depressing? With albums like Revenge of the Dreamers supplying the fun/trappy rap and Chance's album probably going to provide the fun wholesome rap, it'll be nice to have this one to go back to for some "shooting glocks and robbing hoes" music if you know what I mean. He's got features like Travis Scott, Schoolboy Q, Megan Thee Stallion, and ASAP Ferg on top of his own great songs and I really think this was a dark horse for one of the better rap albums of the year.
The Gift -Beyonce (and others…but mostly, Beyonce)
This album was nothing like I thought it was going to be. Thought it would mostly be big radio hits so Disney can steal even more of our money after I shelled out like $60 at the movies on Disney properties this year, but nope! The songs are good folks! They aren't made-for-radio bangers that were solely made to get Ryan Seacrest hard! Thank god!
The song I was expecting the most out of was "Mood 4 Eva" from Yonce, Jay Z, and Childish Gambino. 3 incredible artists. But the song doesn't feel like they made it together. Made it feel like Beyonce made a song and emailed it to her husband and was like "put a verse on this" and then Disney was like "hey beyonce we need Gambino on this too because he's in the movie. Just tack him on to the end." and so she did. The song isn't bad by any means, just think it wasn't the collaboration I was hoping for.
This means, however, that a ton of songs surprised me with how much I liked them! "Find Your Way Back" and "Brown Skin Girl" didn't have much promotional tie-in with the movie but we're both so so good. Both of those came from Beyonce, so they couldn't be awful. But probably my favorite song off the album came from a bunch of people I didn't know at all. And that's "Keys To The Kingdom" by Tiwa Savage and Mr. Eazi.
I don't know what it is exactly but this song makes me wanna salsa dance. It's so weirdly groovy. The vocals are great and this Mr. Eazi dude delivers a cool feature that reminds me of Goldlink (one of the most underrated artists in the game right now). I liked this album a lot, but not for the reasons I thought I was going to.
"Kids" -Rich Brian
If you listen to any song from the post this week I highly recommend it's this one. The production on this track could not be more up my alley. I eat up horns in a rap song like turkey on thanksgiving baby. Can't get enough of it. It works so perfectly with Rich Brian's flow too. He's got this deeper voice and articulates every word he says and it makes for an awesome song about how he has made it as an Indonesian kid in the American rap game.
I'm a big fan of Rich Brian as a dude. He's wicked funny on twitter and I loved his first (funnier) hit "Dat $tick".
Like yes, this video is kind of a joke and it's comical how hard it goes…but it undeniably does go HARD. He tried to pivot to more serious music on his last album it sort of felt out of place but I feel like he's really coming into his own with his new album Sailor coming out this Friday. The singles have been very different from his past music but they're both so good. If you liked "Kids" keep an eye out for the whole project coming out on Friday.
"The Archer" -Taylor Swift
I mean…this is the best song I've heard from Taylor in like 4 years.
I think most people with disagree with me, but Reputation didn't have one good song on it. Not one. The only songs I can name off of it are "Look What You Made Me Do" and "Big Reputation", besides those couldn't tell ya. I hate both of those. That album was just her trying to prove how much of a bad bitch she was and it just wasn't her. So then she bangs a tokyo drift of a U Turn and releases "Me!", a song the Kidz Bop team decided was too much of a baby song so they let Taylor have it. She also dropped "You Need To Calm Down" which had lyrics that a 14 year old girl wrote after taking guitar lessons for 3 months.
Both of these songs didn't become popular because they were good musically, they got popular because it's Taylor Swift. She knew Me! was trash so she told Panic at the Disco to hop on it and film a million dollar music video. She knew "You Need To Calm Down" was a mediocre song so she used Pride month, about a million celebrities, and a hamburger costume to lure the masses into thinking it was better than it was.
But now we get this new song "The Archer" and for the first time in years, it feels like Taylor actually put an ounce of genuine emotion into a song. She's not trying to pretend like she's some bad ass, she's not being this poppy bubbly icon who is "super duper awesome!", she's actually reflecting on the past few years and made a song that doesn't have a gimmick.
I love the 80's ballad vibe she went with this. She missed a million dollar opportunity not somehow trying to incorporate this into the new season of Stranger Things, but again, that would've been a gimmick. This song is emotional, you can actually hear Taylor singing and harmonizing in a way we haven't yet with these new singles, and it makes me excited for this album. It has given me hope that maybe the singles were just catered to radio and pandering to fans just to build hype and then maybe we could actually see some genuineness and talent out of Taylor on Lover. Not ruling this album out just yet.
Peppa Pig: My First Album (Full Review)
Fucken trash.
Literally zero bars.
Everyone was saying Pep fell off but I didn't want to believe them. My little piggies ran all the way home cuz this album murdered their ear drums. So many tasteless lyrics clearly made just to try to get a radio hit. It's like she lost her soul when she signed to the major label. She might be a pig, but this was a straight cash cow move. If you're expecting the same sound as her mixtapes don't even bother. I'm done trying to defend her, this album was absolute horse shit (which you'd think she knows a thing or two about, being a pig and all).
Lana Del Rey Is Ushering In Sad Girl Summer And I'm NOT Here For It
Welp, the person who got famous for being a debbie downer is coming back with a new album of boring ballads next month and I'm just so ready for her to hop back in the time machine that brought her here from the 1920's and disappear.
Lana Del Rey has been pretty tight-lipped when it comes to details about her next album. We at least know that it's called Norman F*cking Rockwell, and she's either released or teased a handful of songs from the record, including the most recent single, "Hope Is A Dangerous Thing For A Woman Like Me To Have — But I Have It." There hasn't been an announced release date yet, although Del Rey recently provided some clarity on that front.

Over the weekend, she performed at the FIB Benicàssim Festival in Spain, and a quick fan-shot video shows Del Rey saying that her new album is "coming out next month." She offered no additional info beyond that, so all we know at the moment is that it appears Norman F*cking Rockwell will be out at some point in August. Via Uproxx
You couldn't just let us have the summer Lana? I gotta be depressed 9 months out of the year but the one season where everyone gets a little more positive, starts gassing each other up about getting hot, you gotta come back into our lives with your cigarette-stenched moaning to make us all remember how miserable life is? GET OUT OF HERE. Can't you just do coke and be sad in LA like everyone else there without dragging a bunch of innocent people down with you? Either start making poppy fun bangers or you can get in your damn Tin Lizzy and drive back to the Great Depression era where you belong.
Speaking of Depression, Jesus Is The One (I Got Depression) Hit #1 On the Viral Charts This Week
Let's go. This is wonderful news. Zack Fox is probably one of the funniest people alive right now and Kennybeats is one of the best producers in the game right now: I hope they make music together forever. If you haven't seen the original video I HIGHLY recommend it. These lyrics are much funnier knowing Zack recorded them naked from the waste down in a top hat.
And on top of that, watch the breakdown they did for Genius where Zack breaks down his lyrics. Again, funniest man in America right here.
Don't Sleep On It: A Comedian "Attacked" XXXTentacion, but Not Because He Was Poor?
This has been a huge story this past week, but I'll do a quick re-cap. Some comedian made a joke about XXXTentacion and a bunch of his 16 year old homophobic white boy fans got mad about it.
I want to make a few points about this. So let's start with the first one, this was a funny joke. She's a comedian. They go up, usually take sad things, and try to make them funny. She did that perfectly. This is her job. I liked this joke.
You know who didn't like this joke? HYPOCRITES. Oh because she made a joke about venmo in relation to X's death it's disrespectful to him? If you idolize XXXTentacion you don't get to have an opinion on what's disrespectful or not. The man was a known abuser to his girlfriend in the most horrific of ways while she was pregnant and ALSO almost beat a man to death simply because he was gay. So yeah, even tho X is dead and didn't have a chance to turn his life around, he was a piece of shit and the only way this joke would "hurt" his legacy is that she revealed he was going to buy a car with ONLY $50,000 cash?
FIFTY THOUSAND??? What were you gonna get Jaseh a damn 2017 Mercedes? A used BMW? A brand new Dodge Durango? XXXTentacion was headed to frickin Toyotathon to get a car that a suburban trophy wife dreams about picking her kids up from soccer practice in.
You can't get a car that's a flex for 50K. You just can't. Every car in a Wells Fargo parking lot is worth 50k so you gotta set yourself apart. If you want to make a name for yourself as an elite rapper you gotta be going over 6 figs minimum. Get the Maybach. Get the Ferrari. Get the Lambo. Even at a bare minimum you gotta get the black Escalade and that'll run you $75k minimum! I don't feel particularly bad for X (although violence and death is sad obviously), I just feel bad for his family cuz he must not have left much money behind.
NOTE: I'll only be responding to comments on this subject via Venmo.
This Season of Big Little Lies Was Good, But I Needed More Music from Chloe
Where my BLL heads at??? Wild show that I highly recommend to everyone. Great acting, great directing, crazy plot, and UNREAL music.
Throughout the show they have this great vibe of alternative soul/rock music that's mostly shown through like a 6 year old's playlist. She's banging Alabama Shakes, Leon Bridges, Elvis Presley deep cuts, and much more. Not sure where she's finding this music as a 1st grader in a rich white Californian seaside neighborhood, but she's finding it. She wasn't featured anywhere near as much as she should've been in season 2, but we still got some great music. No spoilers, but the season ends with an awesome rendition of "Have You Ever Seen The Rain" from Willie Nelson.
And if you liked that and want more reason to check out the show, listen to this playlist from Youtube that has all the songs featured.
What To Look Forward to This Week
We've got a ton of good stuff coming this week. But here's the most notable to look out for.
The Lost Boy -YBN Cordae
Sailor -Rich Brian
The Big Day -Chance The Rapper
That's right, finally Chance is releasing his first project since 2016's Coloring Book, one of my favorite albums of all time. When I say that to most people, they automatically compare to Acid Rap. Look, I love Acid Rap. It has such a unique sound, I loved the features he had, and it has a huge nostalgia value for me…but I think I like Coloring Book better.
Not by a whole lot! But think about it, songs like "All We Got", "Same Drugs", and "How Great" are like the lesser tracks on the album, and they're all INCREDIBLE. Then he gives us the party banger of the century "All Night", he gives us the GORGEOUS outro of "Blessings (Reprise)", and then my favorite Chance song and maybe one of my top 10 favorite songs of all time "Finish Line/Drown".
It's an immaculate album, but one I think people disregard because they have such a special place in their heart for Acid Rap. Which brings us to the Question of the Week.
Which is Better, Acid Rap or Coloring Book? and What's Your Favorite Chance song (all albums, mixtapes, features, etc.)
Hit me up on all social media, come knock on my front door and tell me your opinions through a megaphone, message me mean things on Xbox live, etc. I'll do my best to respond.
See ya next week.