Long week folks. Those post Labor Day blues have kicked in already. The Pumpkin Spiced Seasonal Depression has already planted it's seeds in my body. Thank God we've got some great new music to get us through it though. New tracks from Greta Van Fleet, Rex Orange County, and Kanye as well as 2 really great albums from Earthgang and Post Malone??? What more could I ask for….it doesn't matter what I asked for, because I'm getting the Weeknd going full on Pablo Escobar whether I like it or not! ALSO I didn't ask for a crazy nostalgia tour in the summer of 2020 but I got that too! Lastly, we've got a question of the week I think everyone will have a great answer for. All that and more below.
What's Good
"Always There" -Greta Van Fleet
I was wondering where these guys had been just the other day and here they are with a new song. I know a lot of people hate on these guys for being a knockoff of Led Zeppelin and are just pandering to the "kids born in the wrong generation" type but I love their sound. I'm all in. Keep it coming fellas.
"10/10" -Rex Orange County
New Rex Orange County dropped today. Lord, does that feel good to say. This man dropped one of my favorite albums of the past 5 years back in 2017 and has only released a few singles since so whenever we get a new track like this the hype rises. Is it going to be a whole new album? I'm not going to get my hopes up after his last song "New House" came out over 6 months ago and I was all hyped up about a full new project. But still, glad we got this lil guy. It's good.
"Take Me to the Light" -Francis and the Lights, Bon Iver, and Kanye West.
I mean, these 3 can't together and create a bad song. We've got Bon Iver who's already dropped one of the best albums of 2019, Kanye West who's about to drop the best album of 2019 later this month with Jesus Is King, and of course Francis and the Lights who continues to have one of the most unique sounds in the game while also collaborating with other geniuses like Ye, Bon Iver, and Chance. Great collab from 3 certified kings.
"Dirty Laundry" -Danny Brown
I'll be honest I didn't know Danny Brown till I listened to this song while browsing Apple Music and man am I hooked. This beat goes HARD. He's rapping in what sounds like an exaggerated Andre 3000 impression over heavy Odd Future-esque beats? HEAT. Not to mention it seems like he's got a great personality from this music video. I'm all in. Looking forward to his album coming out in the next few weeks.
"Pick U Up" -Foster the People
Foster the People is low key releasing some unbelievable funky jams. I loved their first album so much in high school and as time went on I almost grew apart from that alternative rock sound they had mastered, so now that they're pivoting to more funky pop alternative music…I'm all in. This chorus is wicked catchy, I still love their lead singer's unique voice, and after they dropped "Sit Next to Me" a year or two back I feel like they're only heading more in the right direction.
Mirrorland -Earthgang
I've had my eye on these guys since they murdered Revenge of the Dreamers III and this album did not disappoint my expectations. The duo is just one of the few people out of Dreamville who are having unbelievable years, with J.I.D., Bas, and Cole himself having standout years already. This album is like if you took Young Thug, Outkast, Migos, and Brockhampton and mixed them all up into a perfect blend. It's awesome. I'm not the biggest trap guy, but this album does it so perfectly. They've got some really fun radio-ready trap beats with hard transitions, hard bars, and some awesome features. My favorite is probably "Proud of You", featuring Thug himself.
But I also think songs like "Fields", "Stuck" and "LaLa Challenge" really show how they're planning on bringing a new sound into mainstream rap. Always great seeing a new duo emerge too.
Really looking forward to see where these guys go as their first debut album was so cool. I think they've got a little work to do as far as branding/differentiating goes but you can tell they've got the talent and in the end I think that'll make them extremely successful at best or just extremely underrated at worst.
Hollywood's Bleeding -Post Malone
The third album from Post Malone is here and to no one's surprise, it's filled with bangers. Posty just tossed an absolute banger salad with this one. I liked the singles he dropped with "Wow", "Goodbyes" and the latest "Circles", but the whole album kept up that energy and gave us even better songs. An easy favorite off the early part of the album is "St. Tropez" which is a classic Post track. Really catchy trap beat, great chorus, and hilarious lines like "abs like Abercrombie Fitch" and "Bud Light running through my piss".
Then we also get some songs that stray a little bit from the radio-hit side of Post like "Allergic" where he's almost channeling an alt rock sound you'd expect to hear coming out of the hipster kids Volvo in the high school parking lot in 2012…and I'm into it.
He also had some really great features like Dababy's heater of a verse on the soon-to-be hit "Enemies", SZA on the melodic "Staring at the Sun", and along with that there's a guitar solo and chorus from *checks notepad* Ozzy Osborne??? and Travis Scott? On the same track??? YUP. That's correct and those 3 weirdos linked up, probably did some weird drugs, ate a few bats, and made the awesome song called "Take What You Want".
Just wild. There's a lot of great stuff on this album so I don't have complaints necessarily, but all I would say is that I wish Post would almost focus up a little bit. I like how he isn't tied down by a certain genre and that he can switch between rock and trap pretty smoothly, but I almost wish he went a little more experimental with it. Do a 10 song album that all sounds like "Allergic" or do a full on trap album and spit the best bars you can. It's just a lot going through a 17 song album and hearing gorgeous production on songs like "Internet" but then also hearing Halsey and Future spew nonsense on "Die for Me". My dreams probably will not come true though, because Post is planning for the Post-Apocalyptic world (pun absolutely intended) by buying a 3 million dollar bunker.
All I'm saying is if shit does really hit the fan I will wait in line for weeks on end to get into the end of the world party at Posty's underground bunker. You know there's gonna be a pool, an aux cord, and all the non-perishable bud light you can imagine. What more can a man ask for.
The Weekend Has Emerged from His Cocaine Cocoon Into a New Version of Himself
So The Weeknd's got a new look and folks, it's only natural. We had to expect this was coming. If there's two things we can always guarantee about the Weeknd it's that 1.) He's Horny and 2.) He Loves Cocaine. And nothing screams overly sexual coke head like a nice little caterpillar on the upper lip.
The Weeknd is evolving like a damn Pokemon except with coke. A Cokémon, if you will.
Stage 1: Absolute Clown
Look at this guy's hair. Just screamed he wanted to do drugs and bang homeless people. His first mixtape was called "House of Balloons" for a reason, dude was wired on the same white that let Pennywise do this move.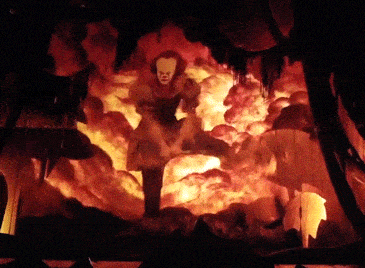 Stage 2: Existential Crisis
He cuts off his hair the same way teenage girls do in coming of age movies when they need to show that the character is going through a mental breakdown. He starts talking about the space and stars and makes music with possible aliens Daft Punk (who knows what they've got going on under those helmets) and releases this wild music video that begs the question "what if life is just like, one big video game man?"
Now where he is? Well, one of the places left to go.
Stage 3: Pablo Escobar
The unbuttoned shirt, the frizzy fro, the dirty stache, he's one of the smoothest looking dudes in the game right now. I legit think this is his best look yet like he pulls it off really well…but he still is giving off some very stinky blow vibes. There's gotta be a couple of lil powders just hangin round in the lip warmer that he's saving for later.
It really only makes sense now though, he's gone through the other phases, he's extremely successful, he's got a ton of money, he's got a ton of women, he's got gorgeous estates, a promising career, and he's dealt with illegal drugs for years in the public eye without getting caught? It was bound to be Escobar season. Can't wait for his next form which will probably be Alabama catfisherman coke-head. So when he comes out a few years from now with a shaved head, long beard, wearing overalls with nothing underneath and a lazy eye don't say I didn't warn you.
The Hella Mega Tour Is the Concert Event I Didn't Know I Needed
If fifth grade me heard this news he would be soiling his American Eagle jeans out of pure joy, and as an adult I'm doing the same thing but in my work-friendly Gap khakis….Green Day, Fall Out Boy, and Weezer are all going on tour
First of all, WILD announcement video. Deep faking Billie Joe, the dude from FOB and Rivers Cuomo on the heads of the Anchorman fight scene was unbelievable. They all released new songs this week and to be honest, they're kinda dope! "Father of All…" is the new Green Day song. Super cool punky sound still. "Dear Future Self" is the new Fall Out Boy song featuring Wyclef Jean, and it's very fitting with their newer surf-rock-pop sound that's been pretty consistent on the radio. And Weezer's new song "The End of the Game" is more classic to their old sound which I'm glad about.
That being said, I really only want to hear their slappers on this tour. No new stuff. If they all play their biggest hits it would be a must-see show. Imagine "Sugar We're Going Down", "Wake Me Up When September Ends", "Island In the Sun", "Dance, Dance", "Boulevard of Broken Dreams" and "Beverly Hills" all playing at the same show??? GAS. HEAT. AND to top it all off they're playing at Fenway next summer.
I could not be more hyped for this and I'm definitely hitting this concert next summer (and taking the day after off, of course).
This announcement really got me as giddy as a young school boy because when I first started to dive into music and see what I personally liked…Green Day was my SHIT. I was wearing all black to school (granted, it was black adidas sweatpants and a black T-Shirt from like Hollister, but still) and loved rocking out to these dudes. I think I was asking for their album for Christmas in 5th grade and was disappointed when I didn't get it…until I opened my last gift which was a little silver iPod Nano.
Yup, this little dude was maybe the best gift I had ever gotten. And what did I do now that I had the power to access any song I want whenever I want for the low price of $1.29? Immediately went to Green Day's artist page on the iTunes store and bought "Holiday", my favorite song. That was the very first song I ever bought on my iPod and I'll never forget it.
This brings us to the
Question of the Week….What's the First Song You Remember Having on Your iPod?
I'm excited to see what people say for this. It's so funny how in 5th grade some kids just liked the Maroon 5 that was on the radio and others were like deep into hipster music from Garden State already. Let me know what yours was and what your iPod looked like if you remember!
If you got this far, thanks so much for reading. For real, love writing these and doing the Instagram questions but actually going through and checking out the post means a lot. Preciate you.