"Yung Bae" sounds like the fake name of a Soundcloud rapper I would make up for a joke on the blog, but it turns out he's actually a Soundcloud future funk DJ who remixes Japanese Disco songs…and they are unbelievably good.
I discovered this guy during my deep Soundcloud phase. I was lurking the depths of the world's most questionable audio streaming site looking for absurd remixes with heavy drops. The Chainsmokers were performing at my school that spring and I dove way too deep into weird dubstep culture. I started logging into my Soundcloud at random house parties and "performing" (pressing play on songs) with my friend under the name "The SmokeChainers". Eventually we gained recognition, toured across the world, got addicted to psychedelics, and after a 6 month stint at Passages Malibu, we finally broke out of the vicious tornado Soundcloud DJ-ing had sucked us into.
When I awoke from that tumultuous time I had to ween myself off by finding some more relaxed remixes and edits. That's when I found "ain't nobody like you".
This song BANGS. When that beat drops and you get that heavy heavy bass behind such a fun beat you can't help but bob your head to it.
So this inspired me to toss him the follow and dive deeper into his music. Since then I've listened to his great remixes of already great songs like "Rough Soul" by Goldlink and "DNA" by Kendrick Lamar. I've also listened to his unique future funk original songs, a bunch of which you can listen to below.
I was immediately hooked on this fun funky sound. I notoriously love disco music. My mom loved people like Diana Ross, Donna Summer, the Jackson 5, Earth Wind Fire, and KC and the Sunshine Band and I've loved them ever since I was little because of it. This takes all the aspects I love from those guys (fun lyrics and groovy beats), and adds the modern spin of heavier bass and a more electronic vibe to it.
After months of listening to this dude I realized he wasn't putting out much on Soundcloud. I was tweaking. I needed more disco. I needed the funk. So I googled him and found his BandCamp profile where it turns out he's been putting stuff out for years now unbeknownst to me. His most recent drop was called Japanese Disco Edits 3. It's BandCamp so you have to pay and I was happy to drop $2 for this tape. I was scratching my neck about to be begging on the sidewalk for more YB. I woulda paid $50.
(Notice the "Portland, Oregon"…of course.)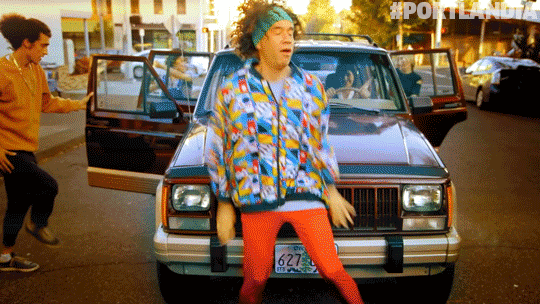 So I pressed play on this mixtape and strapped into this rollercoaster of funk, disco, happiness, and groove. You don't know what these Japanese women are saying, the bass is repetitive fun, and the horns blasting makes you wanna put on some bell bottoms are tear up a D-Floor.
I then found out he sells cassette tapes of these. How much cooler can you get? That's next level hipster. Once sorority girls started getting vinyls hipsters flew to cassette tapes like geese fly south for the winter. Migrating to survive. And I plan to join them.
I think with most popular music nowadays being either heavy trap (Sicko Mode, Drip Too Hard, Mo Bamba) or emo rap (Lucid Dreams, Better Now), we are kinda due for a renaissance of fun, mindless, disco music. I just hope that renaissance comes in the form of Japanese people recording music on a polyester plastic film.